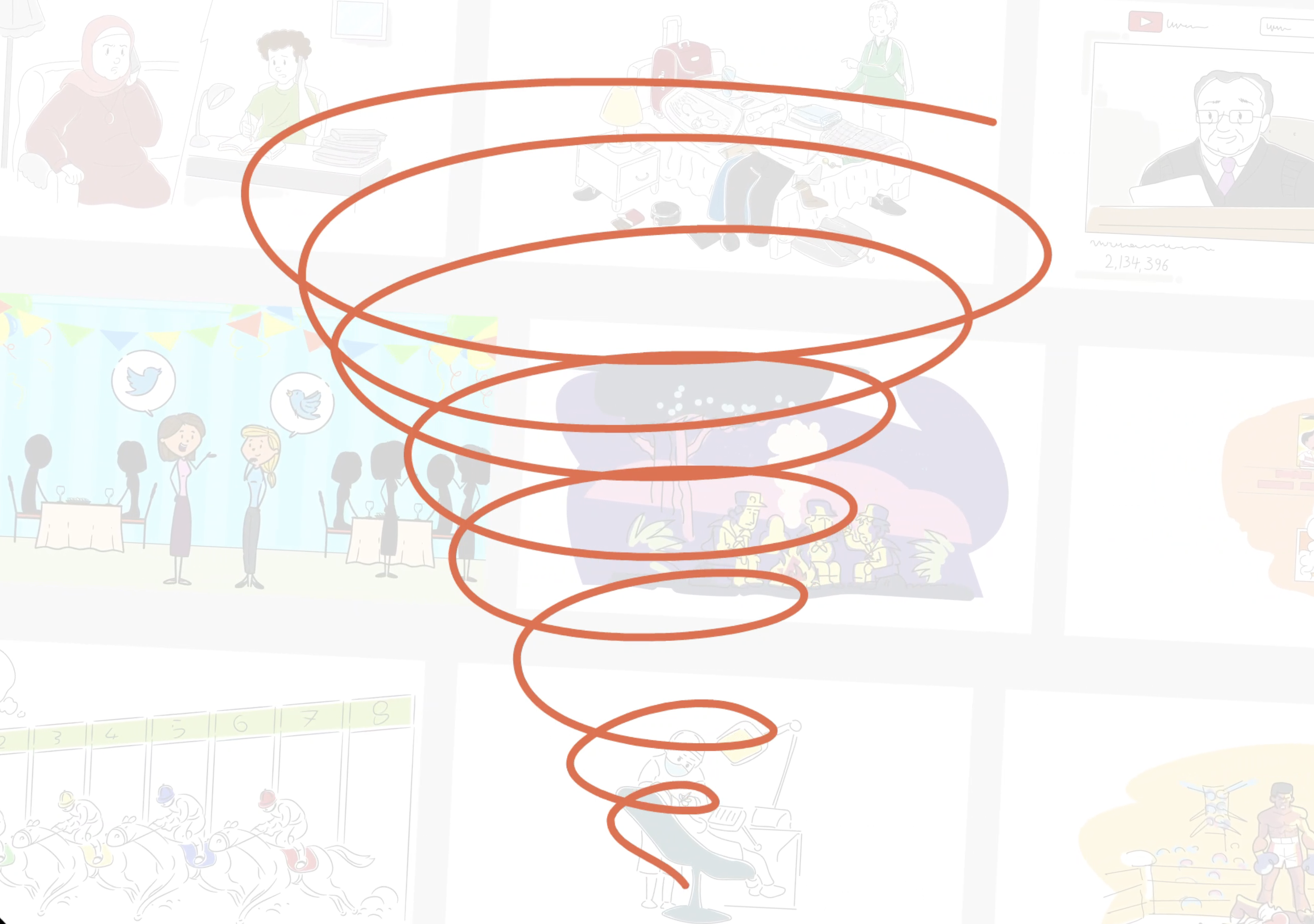 What is a spiral curriculum?
How can Arabic teachers and students apply the concept to really boost performance?
It's more than just revision.
Using a spiral curriculum does NOT mean simply repeating a topic already taught. Rather it requires learning at a deeper level, with each successive encounter building on the previous one.
Most courses requiring high performance from their candidates (Medicine, Engineering, etc) now employ this powerful concept in their curriculum development and there's no good reason why the same principles shouldn't be applied to language learning too.
Spiralling for successful language learning
There's no escaping the fact that in order to improve their language a learner will need to learn a large number of new words and concepts.  But meeting them just one time isn't enough.  They need to be internalised, they need to "stick". And for that a learner needs to revisit those words time and time again, in a variety of contexts, and practise them in different settings and in different ways.
This is where the organisation of the curriculum matters.  It not just WHAT is covered, but HOW it is covered that counts.
Unfortunately, more often than not, Arabic courses are arranged in a linear manner, where success is measured only by the completion of chapters, levels, or even whole books.  It is left to the individual student and/or teacher to organise their own method for revisiting vocabulary and linking topics together, with the predictable outcome of wildly varying degrees of success between learners.
So, what are the features of a spiral curriculum?
1. Revisiting topics, themes and vocabulary again and again
This is by far the most obvious feature. For example, the first time with a theme like "Introductions" you may learn to say "مرحباً" and "كيف حالك؟" and learn some rote responses to this.  The next phase might involve talking about your occupation, later followed by another pass where you learn to talk about how work was today.
Most Arabic courses do well at spiralling grammar. For example, when we first learn about الفعل المضارع, we drill morphing it for tenses and gender.  Once that is mastered, we visit negation, command, prohibition and then the منصوبات and مجزومات.
However, vocabulary (the meat and potatoes of any language) is often neglected.  And so it's really important for learners to be able to access resources that will help them with this.
2. Increasing the difficulty at each visit
The way good spiral curriculums avoid superficial learning (a subject for another time) is to move from the simple to the complex.
Apart from actually improving success, learners can perceive their own improvement and progress, improving motivation.  Linear courses by comparison provide less opportunity for this.
3. Relating new learning to old
If done correctly, clear linking of new learning to old stimulates progress and increases fluency without overwhelming the learner.  This concept is widely accepted, with some suggesting the ratio to be 1 in 20.  Or to put it another way, introducing only 5% new words to 95% of what is already known to the learner.  That means that every exercise, conversation or reading text should have nineteen known words for every one that is introduced.
The result…fluency improves with each visit
The end result of a successful spiral curriculum is that the learner's competence gradually increases, until the final objective is achieved. Putting aside the fact that fluency is difficult to describe (let's call it subjective for now), good spiralling should see Arabic skills improve each time the student spirals around.  Just remember that this may not be seen globally, just in the particular topic.  For example, don't expect mastery of legal language or أصول الفقه without having spiralled that specific vocabulary.
Non-linear does not preclude a logical sequence
When comparing spiral to linear, it's important to realise that a logical sequence still has to be maintained.  While elective curriculums (where the learner chooses their own content) are suited to spiralling, it stands to reason that a learner cannot jump to the use of the منصوبات without having first understood how to use الفعل المضارع.  However, when it comes to vocabulary, there is much more scope for the flexibility that serves the interest of the learner rather than the course.
Final word
Learning a language in a spiral manner is a natural process which starts right from the earliest words babies and young children learn from those around them.
Successful language learners and teachers can adopt the principles described here by looking for opportunities to revise and drill but by adding a little more complexity each time.
Effective resources employ the principles of the spiral curriculum to increase success among language learners.
Arabic Workshop is a listening resource with comprehensible input and spiral curriculums at its heart. Learn Arabic by listening with engaging whiteboard animations that bring stories to life.  Learn new words with a vocabulary builder that has a talking transcript and dictionary function.  Progress is carefully mapped to popular frameworks and progress is in small, steady steps.